Comprehensive School Safety Planning and Programming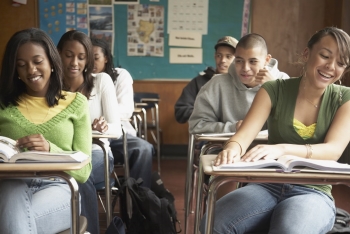 New Justice Services, Inc. has been the leading source for school-based Conflict Resolution training in Central New York since 1984. During this time, New Justice has trained thousands of students and staff in ways to effectively manage interpersonal conflicts before they escalate into more disruptive, and dangerous behavior. New Justice can provide training and technical assistance in class room management, managing school discipline, violence prevention, comprehensive school safety and crisis intervention programming as well.
School shootings always re-direct our attention to the ways in which such tragedies could have been prevented. New Justice can offer you the following programs to assist your district in meeting your safety and behavior management plans.
In-School Mediation Skills Training for Students and Staff (4 – 12th)
Mediation is one of the most effective techniques for assessing and de-escalating conflicts. New Justice has been training people to mediate for the Courts since 1981. Thousands of Central New York youth have been trained by New Justice to mediate in-school disputes. If you are developing your program for the first time, or re-vitalizing an old program, New Justice staff can assist you with training and technical support.
Classroom presentations on Conflict Resolution and Violence Prevention (4 –12th)
Every school faces unique demands from their student population. And every student population faces unique challenges from their home community. New Justice can offer classroom presentations on Conflict Resolution that can be adapted to a variety of issues from bullying to street violence, depending upon the pressures faced by the school and the students.
Managing Differences (6 – 9th)
The 21st Century challenge confronting today's youth is the recognition and acceptance of cultural differences. New Justice Services has developed a basic classroom presentation that allows students to explore the role that differences make in their lives. This program can address the issues of school cliques, middle school developmental behaviors, bullying as well as the larger issues of race, class and gender.
In-School Discipline and Behavioral Management (4 – 12th)
The current changes in the Juvenile Justice world of seeking ways to minimize youth arrests, prison time and displaced educational experiences has a direct impact on school disciplinary practices and school suspension rates. Out of school suspensions dramatically increase the likelihood that a young person will fail to complete their education. New Justice Services can assist a school or district in reviewing its response to student disruption and assist in managing them through Restorative practices such as Conflict Coaching, Restorative Circles and In-School Mediation programming. New Justice can also assist in reviewing your Formal Hearing procedures to ensure that they are being properly managed.
Conflict and Life Coaching
New Justice can provide a Conflict Resolution Specialist for a building. This individual can assist the staff and students with de-escalating conflicts and disruptive situations, provide classroom management support, assist with in-school mediations and Restorative Circles and provide students with Life Coaching by providing a safe space to discuss their personal issues and concerns.
Technical Assistance
New Justice Services can assist your district or building with integrating your Project SAVE plans into the daily life of a school. New Justice has the experience necessary to assist with working out the details of implementing and supervising your Comprehensive School Safety programs.